Service Apotheek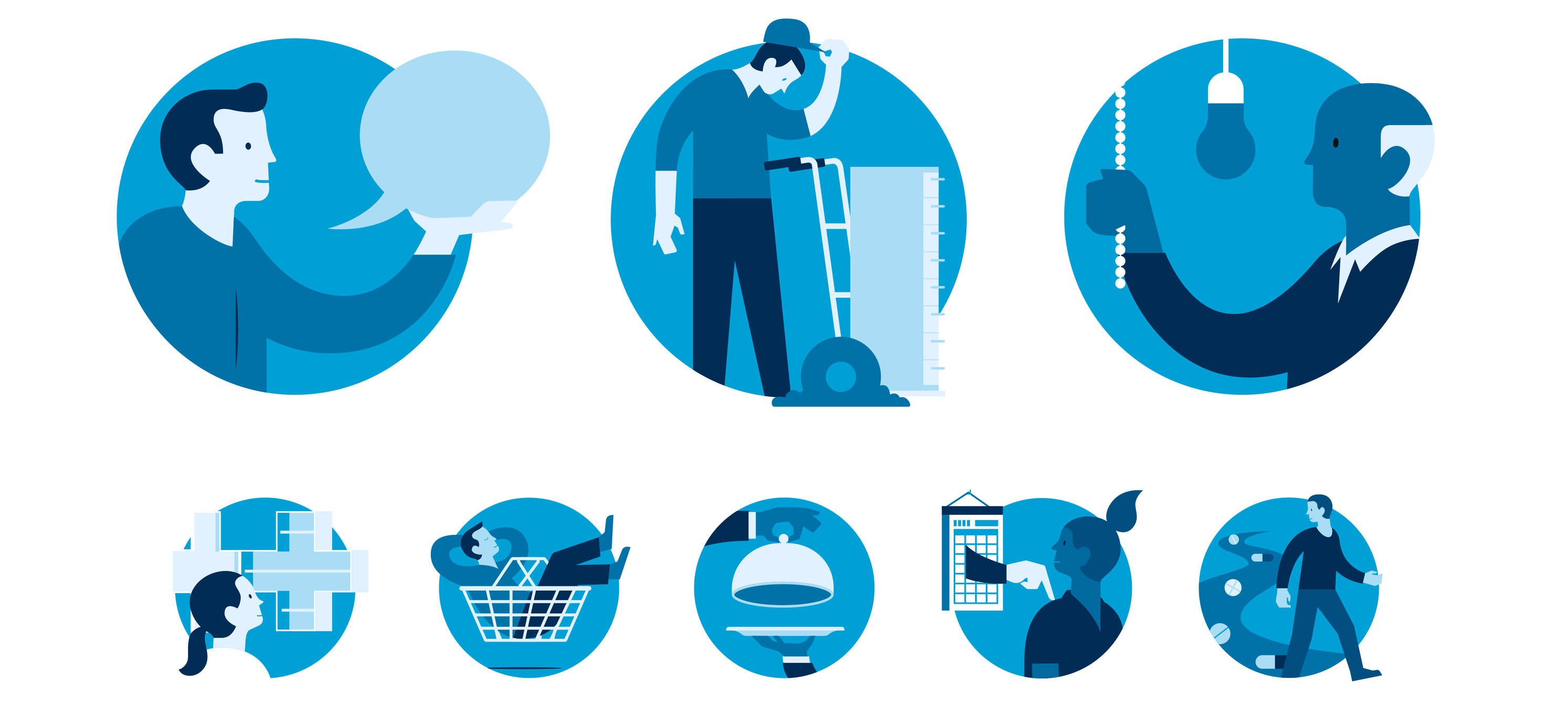 Pharmacies are used by everyone. Some people visit often because of a chronic illness, others stop by just once a year. But for everyone, the pharmacy is the place to go for medication. More a pickup location than a store. That's why you usually choose a pharmacy close to your home. And switching because you're not satisfied? That almost never happens.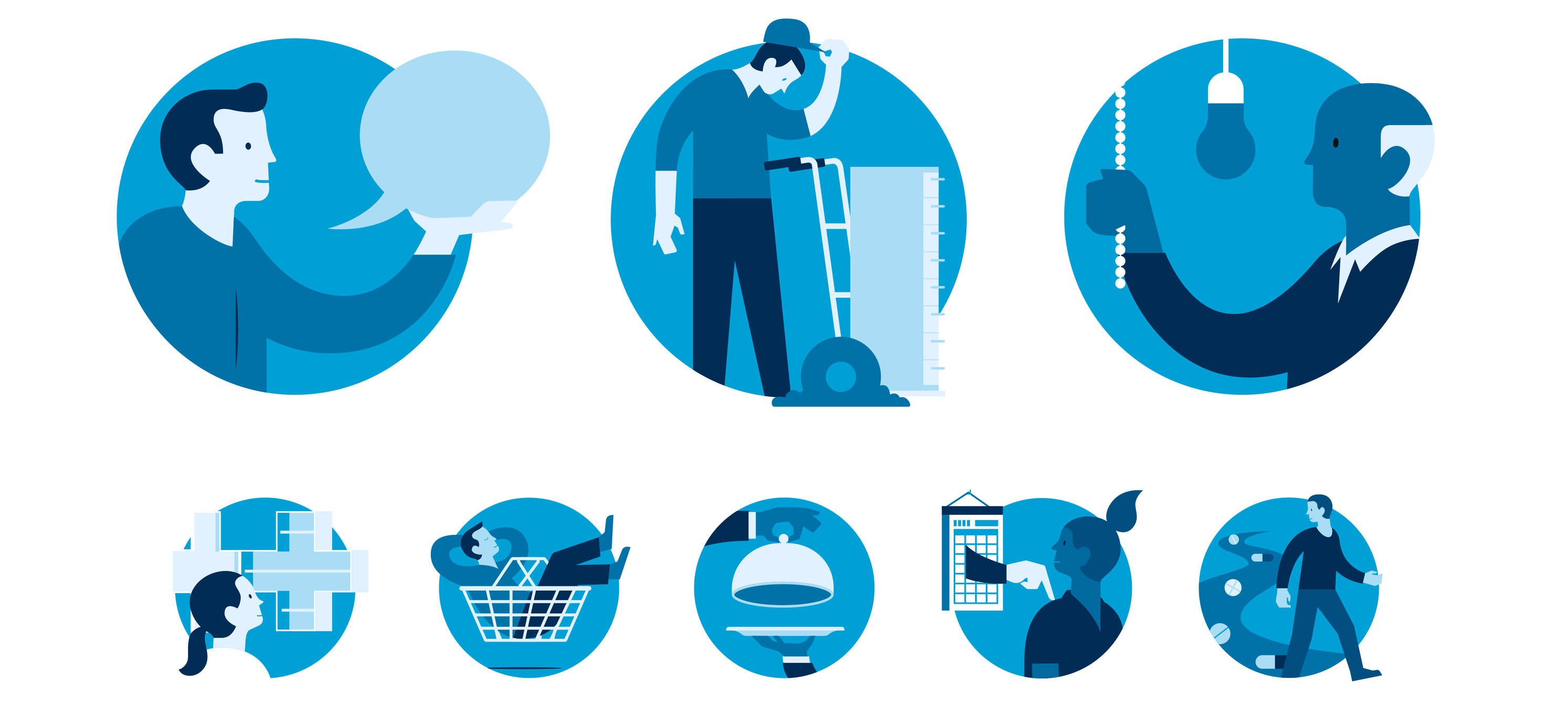 A future vision for Service Apotheek
Pharmacists are in a comfortable position. But what if companies like PostNL and Amazon also start delivering medication? As a customer, that would mean you never have to wait in line again. Order it today, get it delivered tomorrow. What is the added value of a traditional pharmacy, then?
With this in mind, we developed a future vision for Service Apotheek. The largest franchise formula for independent pharmacies in the Netherlands with over 500 affiliated pharmacies, and a thought leader in its sector.
While developing our vision, we took into account the following conclusions:
Service Apotheek pharmacies are currently not recognizable enough. There are almost 500 franchisee pharmacies in the Netherlands and they each have their own style. The pharmacies also have too few options for privacy;
Companies that do not add value for consumers go out of business. This includes companies with a focus on personal contact such as clothing stores, bookstores, etc.
Pharmacists don't have a good image: they are seen too little as healthcare providers and too much as medicine "pickup points". Customers don't know what to expect from a pharmacist. Too often, they turn to their physician with questions about their medication, or even decide to keep their question to themselves, even though this is exactly where a pharmacist can be of great help.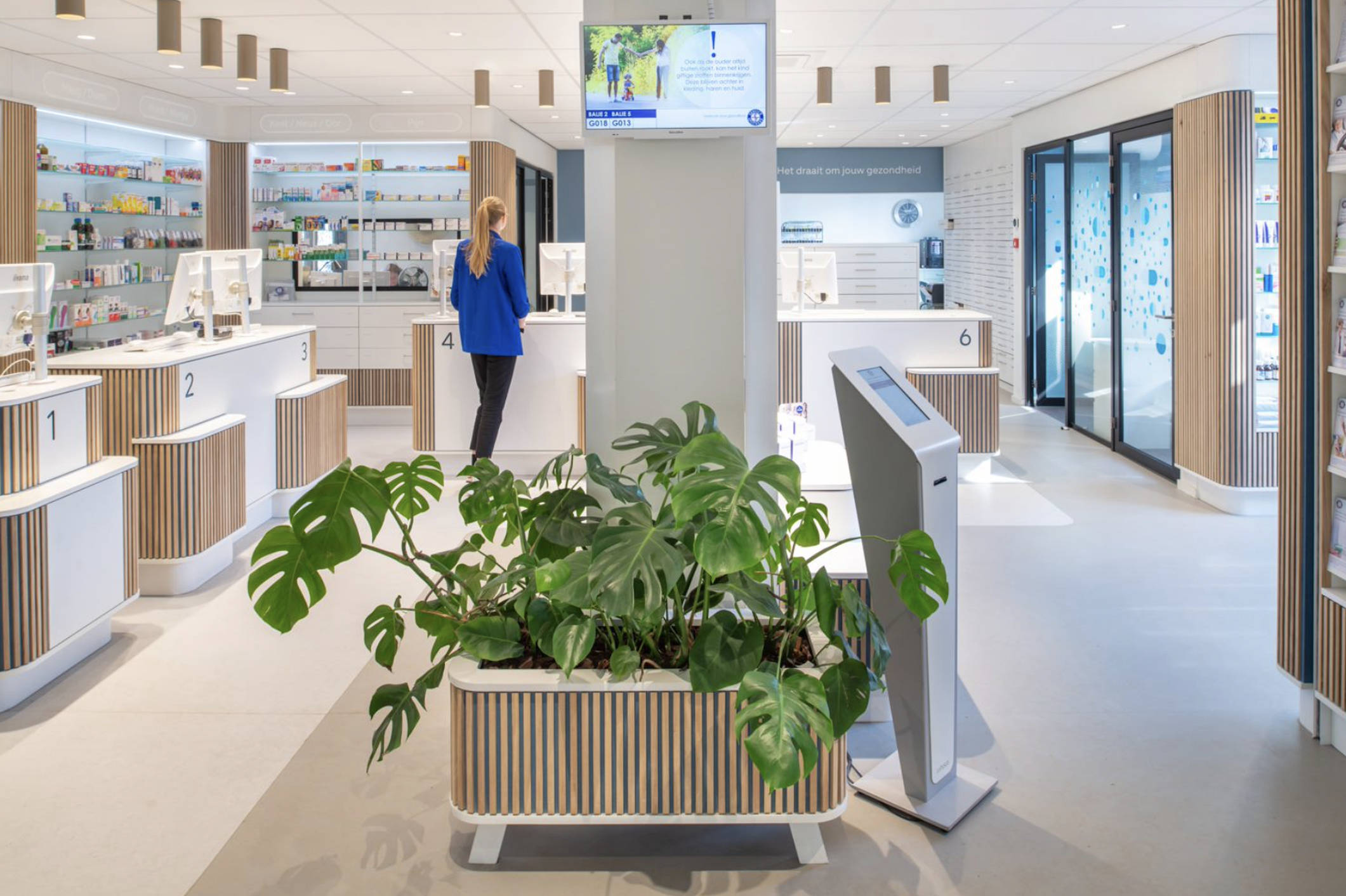 The pharmacy as a welcoming expert
A pharmacy is not just a "medicine pickup point". It is the only healthcare provider that doesn't require an appointment. A healthcare provider with systematic information about your health, who is always there for you. The pharmacy is "a welcoming expert". And in order to better project the role of welcoming expert, and leave the somewhat stuffy image behind, Service Apotheek needed a different look. Based on our vision we developed a new visual identity, a matching interior design concept and a design for the new app.
New identity
In the design we looked for ways to promote the image of a welcoming expert. Among other things, a custom font was developed that is friendly, modern and readable. We use illustrations to break the ice where necessary, such as in the app and in the newsletter. And we developed animations to make the brand more lively and dynamic. We've kept the dark blue from the old identity, but replaced the red with a fresh and calming light blue. The blue range of colors not only provides an uncluttered feel to services like the app but also gives a sense of confidence.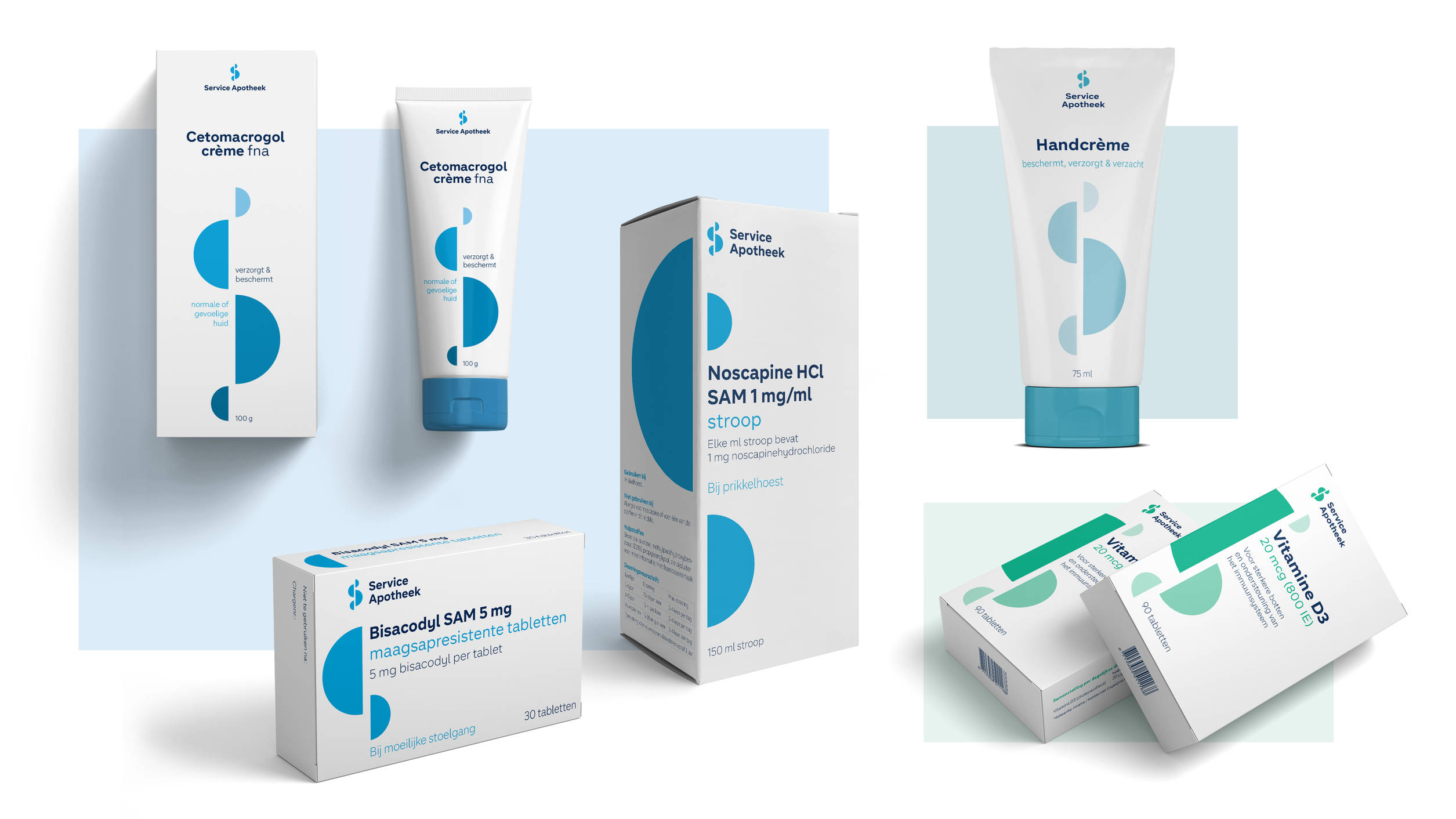 So much more than medication
Another important part of the new identity is a new way of communicating. Service Apotheek used to communicate in a rather distant and formal way. That kind of style doesn't build a bridge with customers. That's why we switched to a style in which Service Apotheek writes with empathy and familiarity. Without jargon, but from a place of professional expertise. Not by calling themselves experts, but by saying the right things at the right time. Because Service Apotheek is "so much more than just medication".
New interior design concept
Based on the new brand positioning, architectural firm GROUP A developed a new visual identity for the store interior. The goal is to give all 500 pharmacies the same "Service Apotheek" feel. A scalable and modular interior concept was chosen that projected the Service Apotheek image. The concept caters to the varying group of 500 independent franchisees. The pharmacist can choose from a toolbox with different interior elements such as counters, display cases, planters and much more.
The real-life pharmacy and the app are one
Customers should be able to get help when and where they want. So in order for Service Apotheek to truly be the welcoming expert, we brought the physical pharmacy and the digital pharmacy together. On the one hand, by visually connecting the new interior design in the pharmacy to the app. But also by allowing online and offline services to seamlessly blend into each other.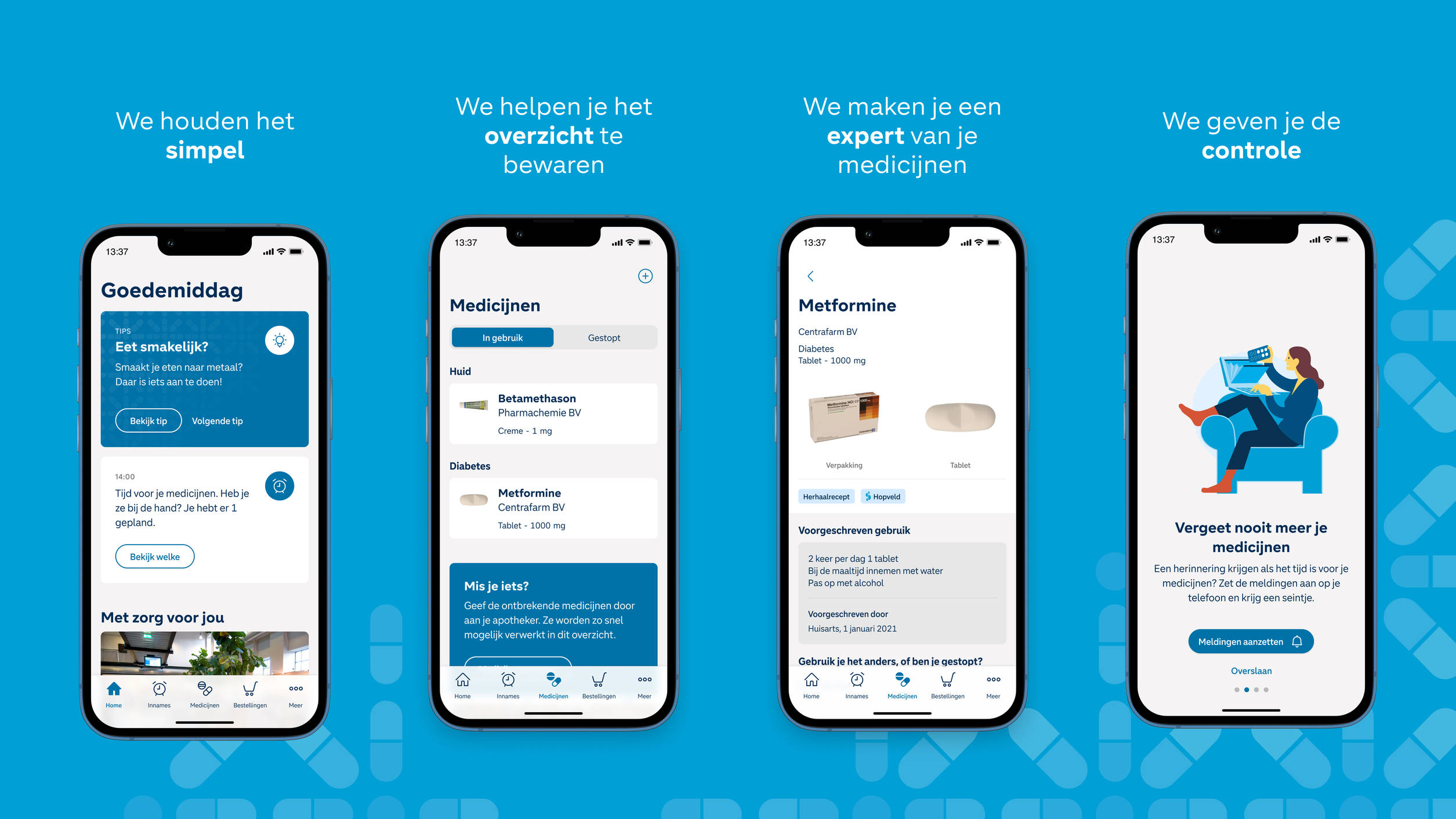 Implementation at 500 pharmacies and communication channels
The first pharmacies have already been renovated, but the new style is being implemented in phases and the entire project will take years. There are almost 500 pharmacies to renovate and many communication channels (offline and online) to redesign. From packaging and delivery vans, to leaflets and posters.
Want to read more about our work with Service Apotheek? Read the interview "Service Apotheek: medical knowledge as the foundation of the brand" with strategist Jeroen van Erp, by Emerce's Bas Hakker. (Only in Dutch.)