Service Apotheek app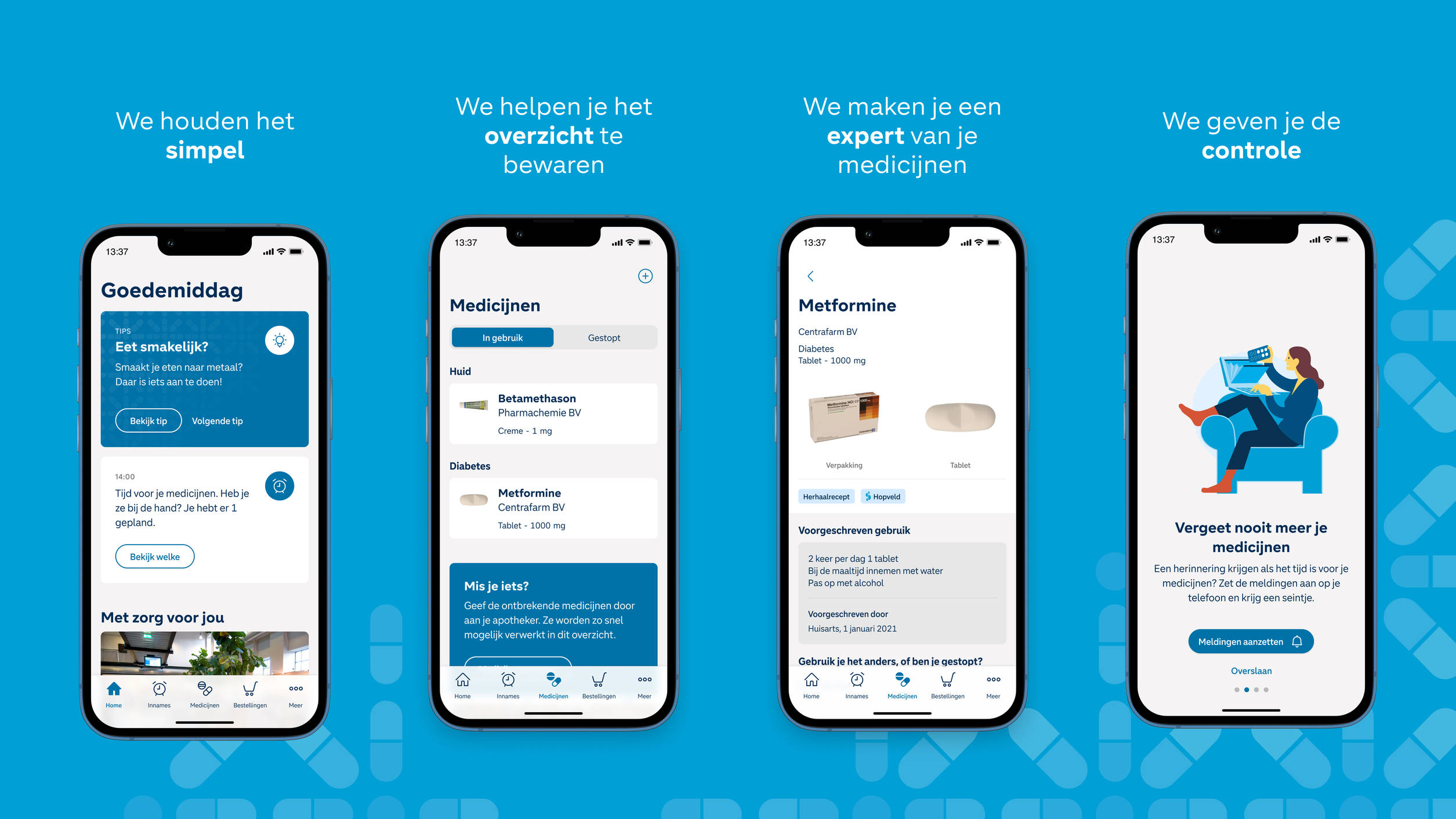 As a chronically ill patient, you need to pick up new medication every 3 months or less. That's a lot of visits to the pharmacy. In addition, for some, taking the right medications at the right time is almost a day job. Service Apotheek took up the challenge and commissioned us to design a new app.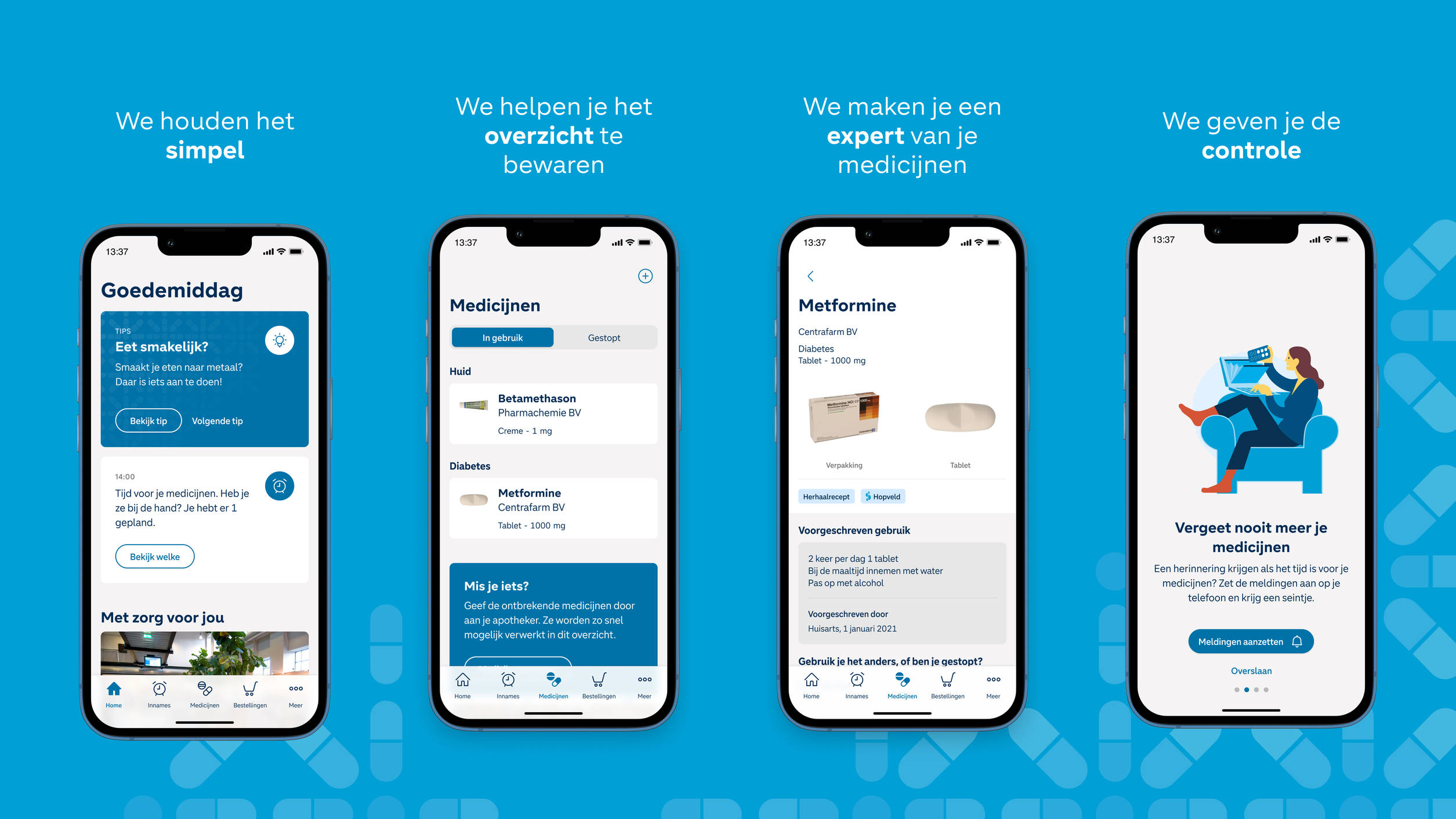 A pharmacy in your pocket
Making life with medication easier
Designing an app that truly makes the lives of chronically ill medication users better. To do that, you need to do your research. With the help of Service Apotheek, we found 5 patients willing to help us. Based on a "cultural probe" and extensive interviews, we got a good idea of their problems and challenges. This lead us to the functionalities that make the app a success.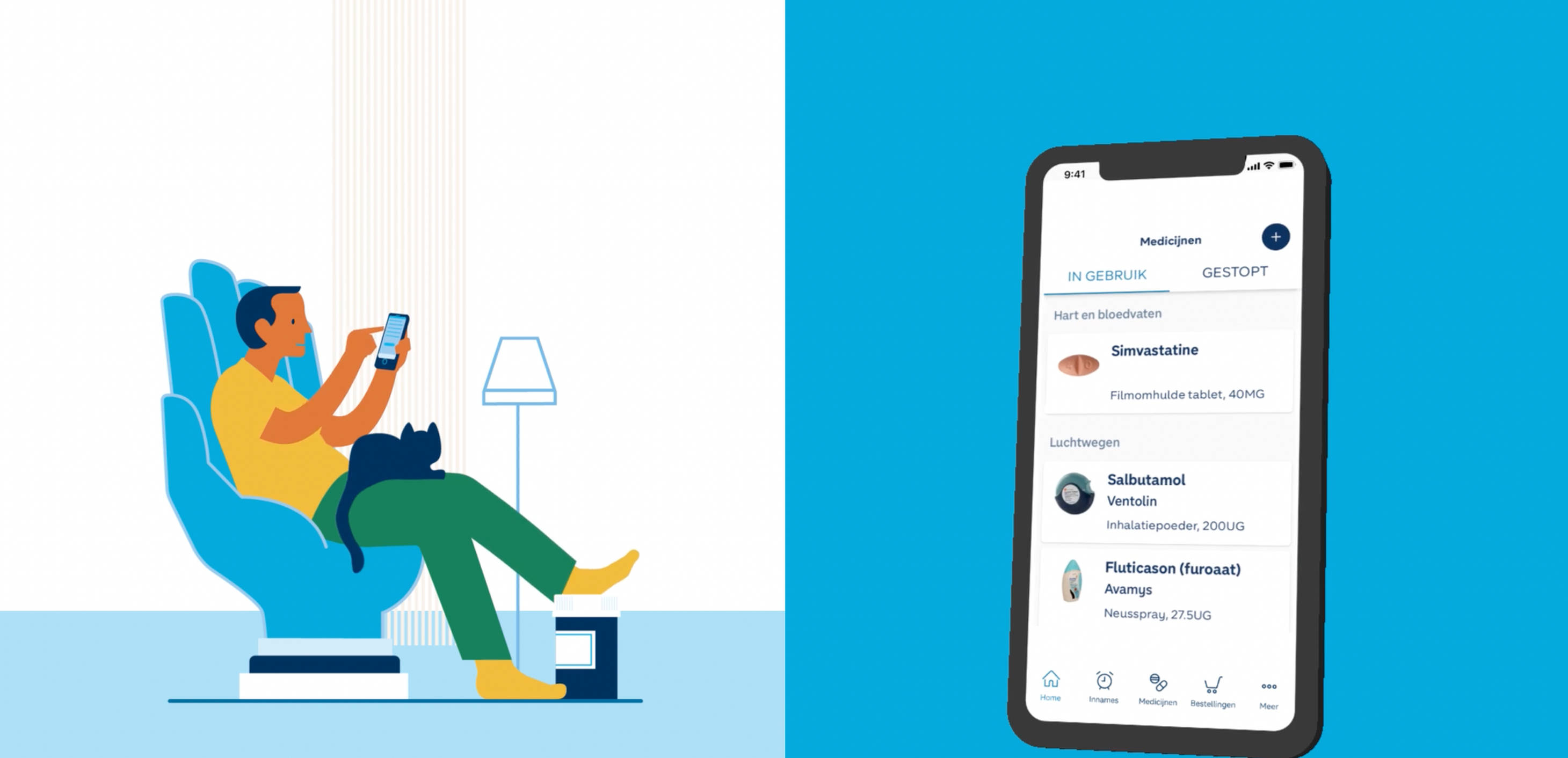 App with a clear role for the pharmacist
The research showed us that the app can not only make life with medication easier. It also offers the perfect opportunity to clarify the pharmacy's role. Because what does a pharmacist actually do? And how can they help patients?
The pharmacy as a welcoming expert
A pharmacy is not just a "medicine pickup point". It is the only healthcare provider that doesn't require an appointment. A healthcare provider with systematic information about your health, who is always there for you. Where you can always go with questions about your medications. A "welcoming expert", and that should also be evident in the app. This allows the Service Apotheek app to differentiate itself from competitors such as Etos+ and Pillpack.
The real-life pharmacy and the app are one
Customers want to be able to get help when and where they want it. They have grown used to "Order it today, get it delivered tomorrow" service. For that reason, together with Q42, we brought the physical and digital pharmacy together in the app. On the one hand, by visually connecting the pharmacy's new interior design to the app. But also by allowing services to seamlessly blend into each other. By doing this, the app has become part of the pharmacy.
All your medication information in one place
With the Service Apotheek app, you know exactly what medications you are taking, what they are for, and what they look like. You always have a record of your medications at hand. Is your supply running low? No problem. You can easily order new medications. Just press a button or take a picture of your prescription. Quick and convenient. Chronically ill medication users already have enough on their minds.
Another important functionality is setting reminders. That way you never forget to take your medication. And by checking off what you took, you always know what you have and haven't taken. Have you forgotten the best way to take your medication? The app makes it easy to look up. With the app, you have all the important information at hand.
The patient is in control
The app helps patients understand their medication better. What it does, how it works and how best to use it. Because knowing more about your medication ultimately makes for better health. Is there something wrong in the medication list? Are patients using medications differently than prescribed? They can easily adjust this themselves. The adjustments are then checked by the pharmacist. That way both parties have the information, and the patient has peace of mind.
Lively and light
In the design we looked for ways to promote the image of a welcoming expert. Among other things, a custom font was developed that is friendly, modern and readable, and we use illustrations to break the ice where necessary. These illustrations were created by Rotterdam-based illustrator Aad Goudappel. They make the app less stuffy and more lighthearted.
Want to read more about our work with Service Apotheek? Read the interview "Service Apotheek: medical knowledge as the foundation of the brand" with strategist Jeroen van Erp, by Emerce's Bas Hakker. (Only in Dutch.)