BrandMR
Brandmeester provides legal help in a completely new way. Predictable, with upfront pricing, and completely online. Fabrique was involved in realising this legal service from the very beginning. In collaboration with the client we designed it, built it, and wrote the content. Giving Brandmeester everything it needed to break open the traditional legal market.
Making legal assistance accessible to all
A quarter of Dutch people do not seek help when they have a legal question or problem. They do not have legal expenses insurance and find the costs of a lawyer too high and unpredictable. Brandmeester offers legal assistance in four clear steps, each step at a fixed price:
Online check
Personal advice
In conversation or objection
Litigation or appeal
Brandmeester is a groundbreaking new concept that is a logical next step in the trend of people refusing to take out insurance and only wanting to pay when necessary. Brandmeester is making legal aid accessible to more people, and leading Dutch newspaper Financieel Dagblad thought that was important enough for the front page.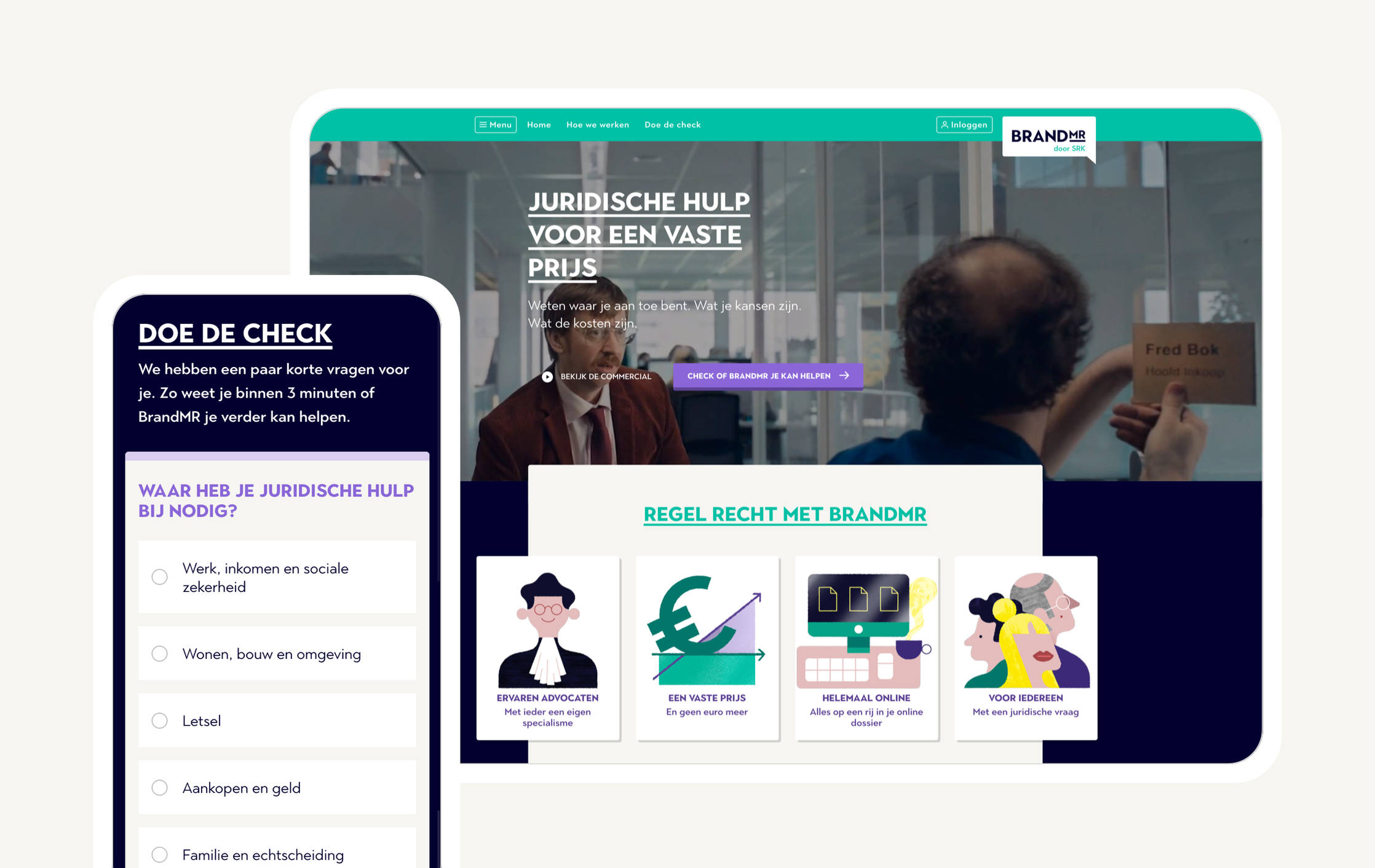 We wanted to build a strong and accessible brand within the inaccessible and somewhat conservative legal market.
From scratch
We were involved from the very beginning. The concept and the brand values were there, but the service itself still needed to be drawn up. So how should the service work? Everything was still open. We designed the concept and immediately tested it with users. Using their enthusiastic reactions and useful feedback we started to Scrum. In an intensive collaboration with the people from Brandmeester, LabDigital, Bikkelhart and XXS, we designed the complete service in 7 sprints. After that we started to refine and extend, always checking with the users if we were doing the right things.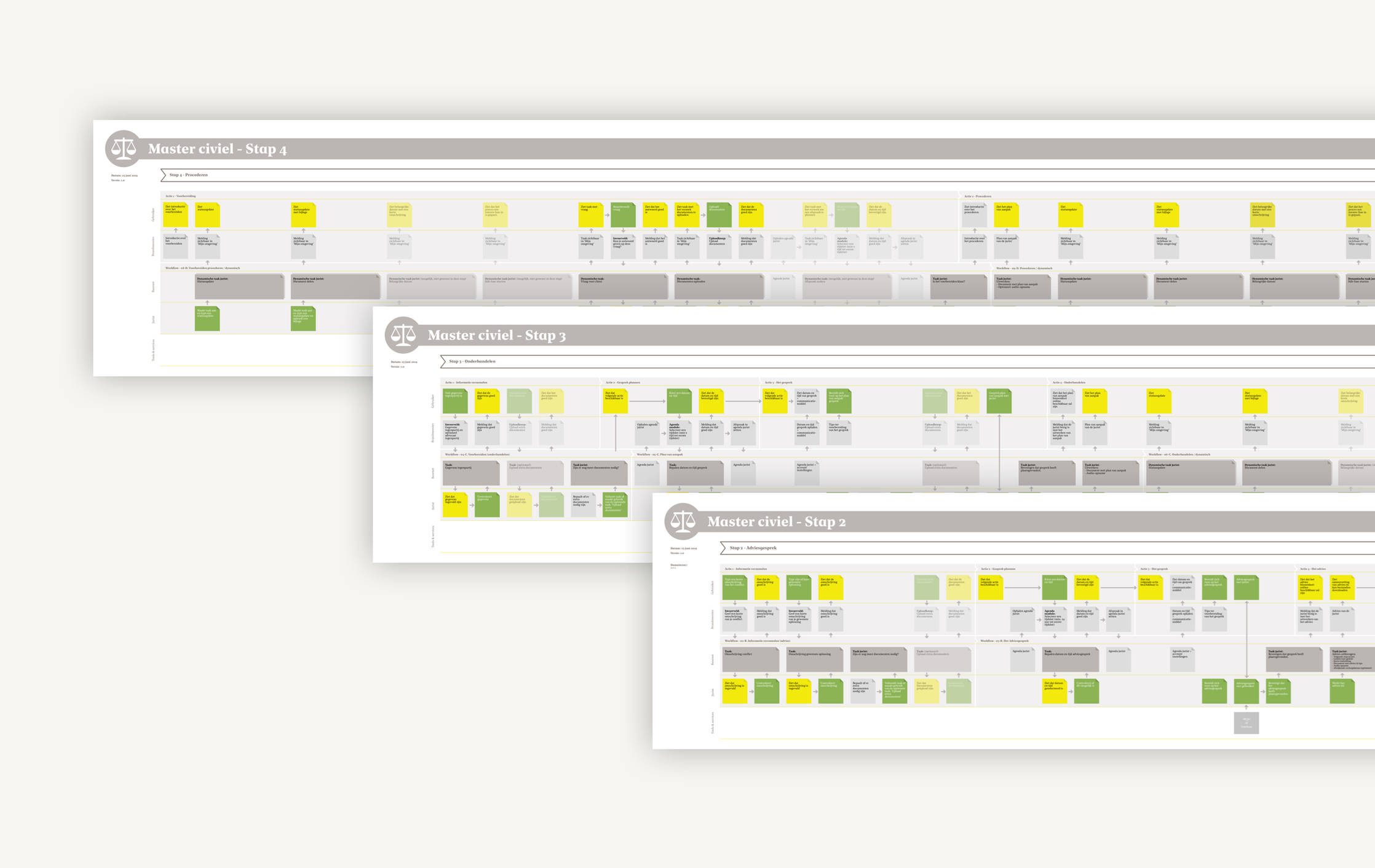 To design a good consumer interface it is necessary to oversee the overall process of the service. Our team mapped this service with the longest service blueprint we have developed so far. Want to know more about service design? Check out our service design page.
Online but still personal
Because Brandmeester is not a standard law firm we gave it a very different look. Fresh, vibrant, contemporary, and personal. We made sure that the service felt personal, even though the entire process takes place online. This was done in part by showing recurring pictures of the legal expert in charge of the case.
Clients can find their file after logging in. Every step that can be predicted can be consulted in the customer portal without any human intervention. So even if a client reports his employment dispute at midnight, he or she will still be able to get straight to work. The copy has been written in such a way that it can be understood by everyone. We won't ask about someone's 'legal conflict regarding labour', but simply ask: what's going on? In simple language, without being condescending.
The customer portal posed the biggest technical challenge. This single page application needed to be deeply integrated in the legal software. This software is complex, but all the user sees is the user-friendly interface. The user is assigned the right legal expert with a few simple questions from a checklist. And thanks to the link with the expert's calendar, it is easy to make an appointment.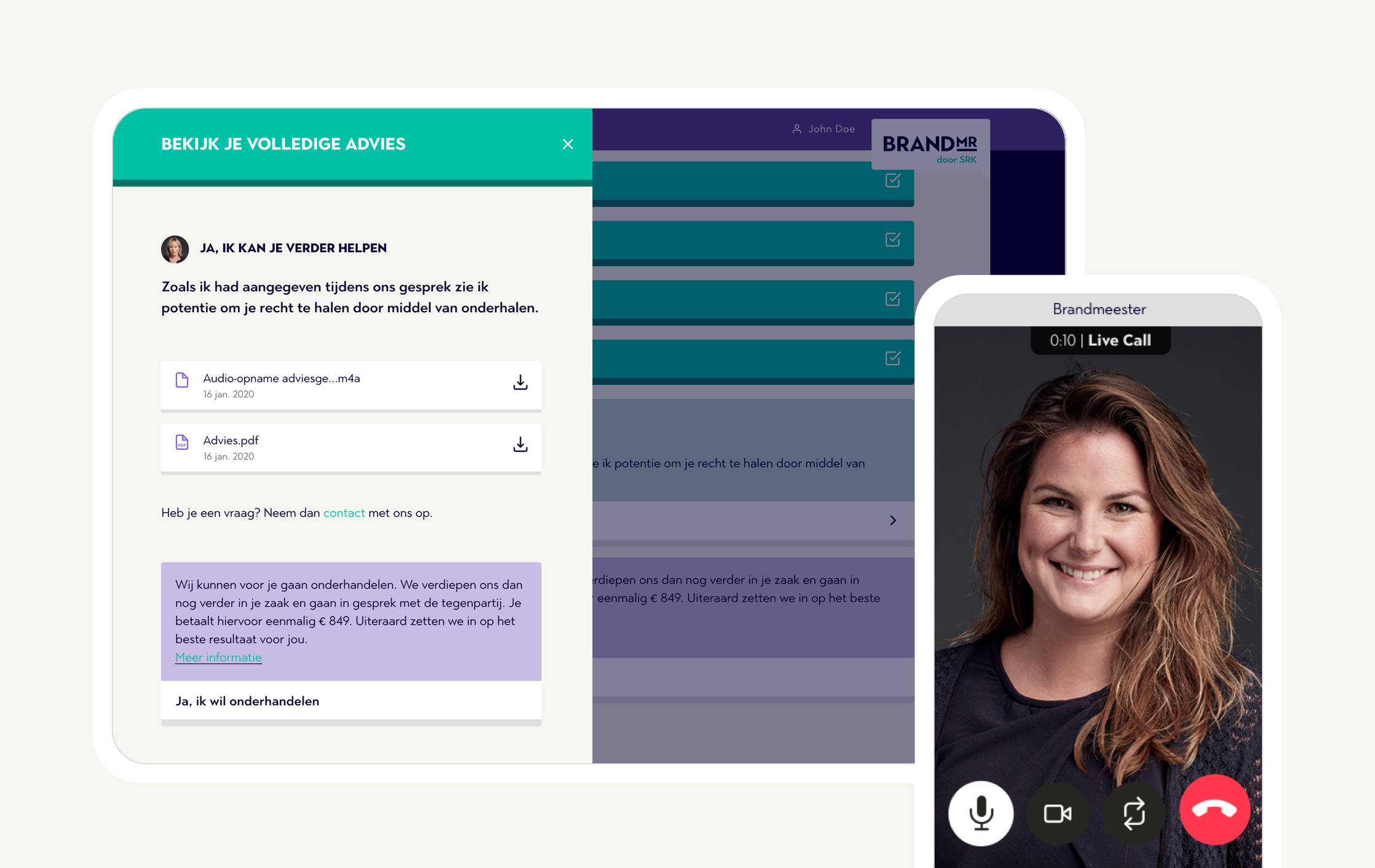 We designed the customer portal as a real power tool. This ensures that the client and the legal expert can work together perfectly.

Optimisation and further development
After a softlaunch period of 3 months a media campaign was staged to announce that BrandMR had gone live. In collaboration with Bikkelhart, Fabrique is constantly optimising the BrandMR platform.
In addition, Fabrique and LabDigital are also helping to develop new functionalities and add more areas of law.