UMC Utrecht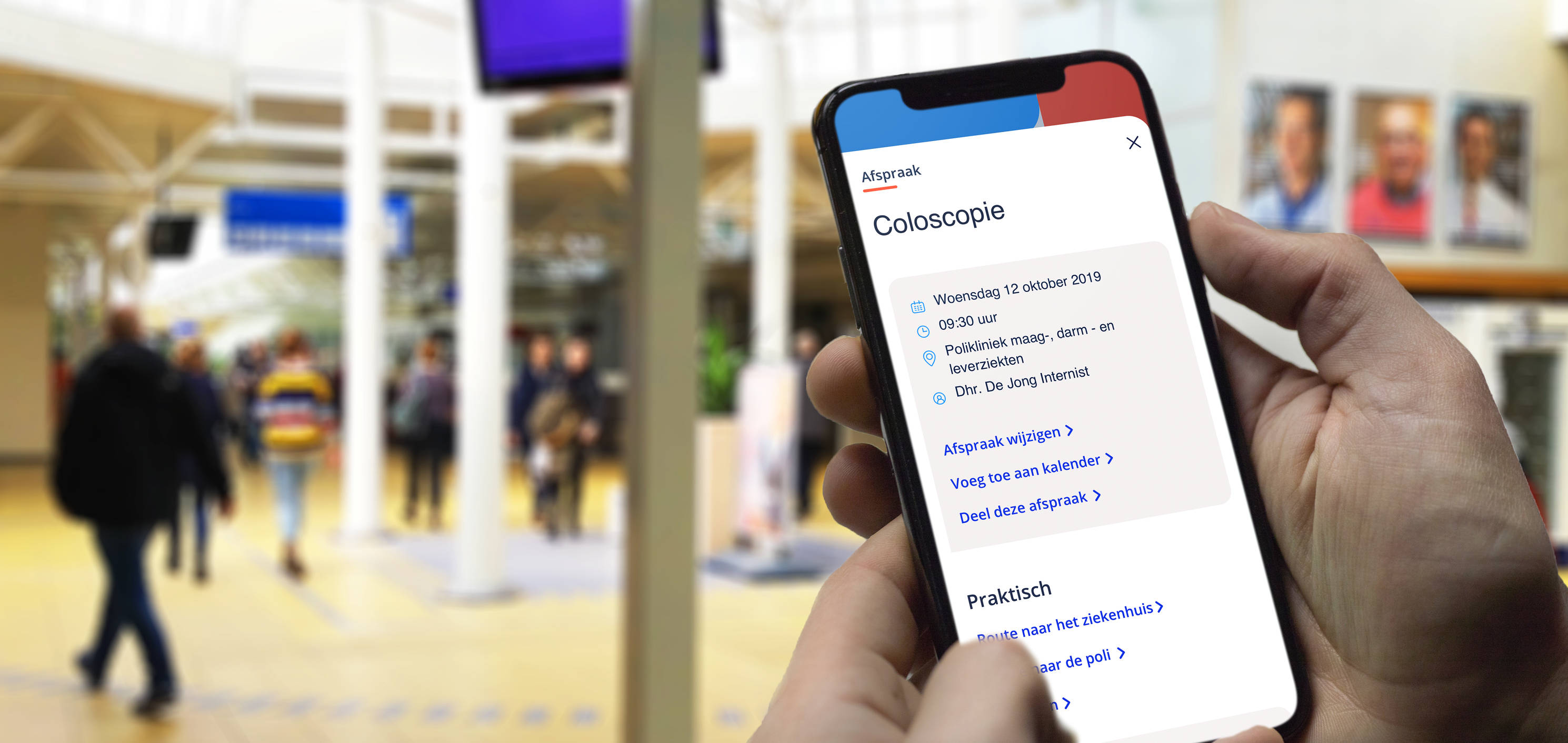 If you haven't been through this yourself, then certainly a family member has: there's something wrong and you have to go to hospital. You are sent from one doctor to the next, from one department to the next. You're overloaded with information and you're not sure what's important and what's not. As a leading medical centre, UMC Utrecht wanted to improve things for its patients, and asked for our help.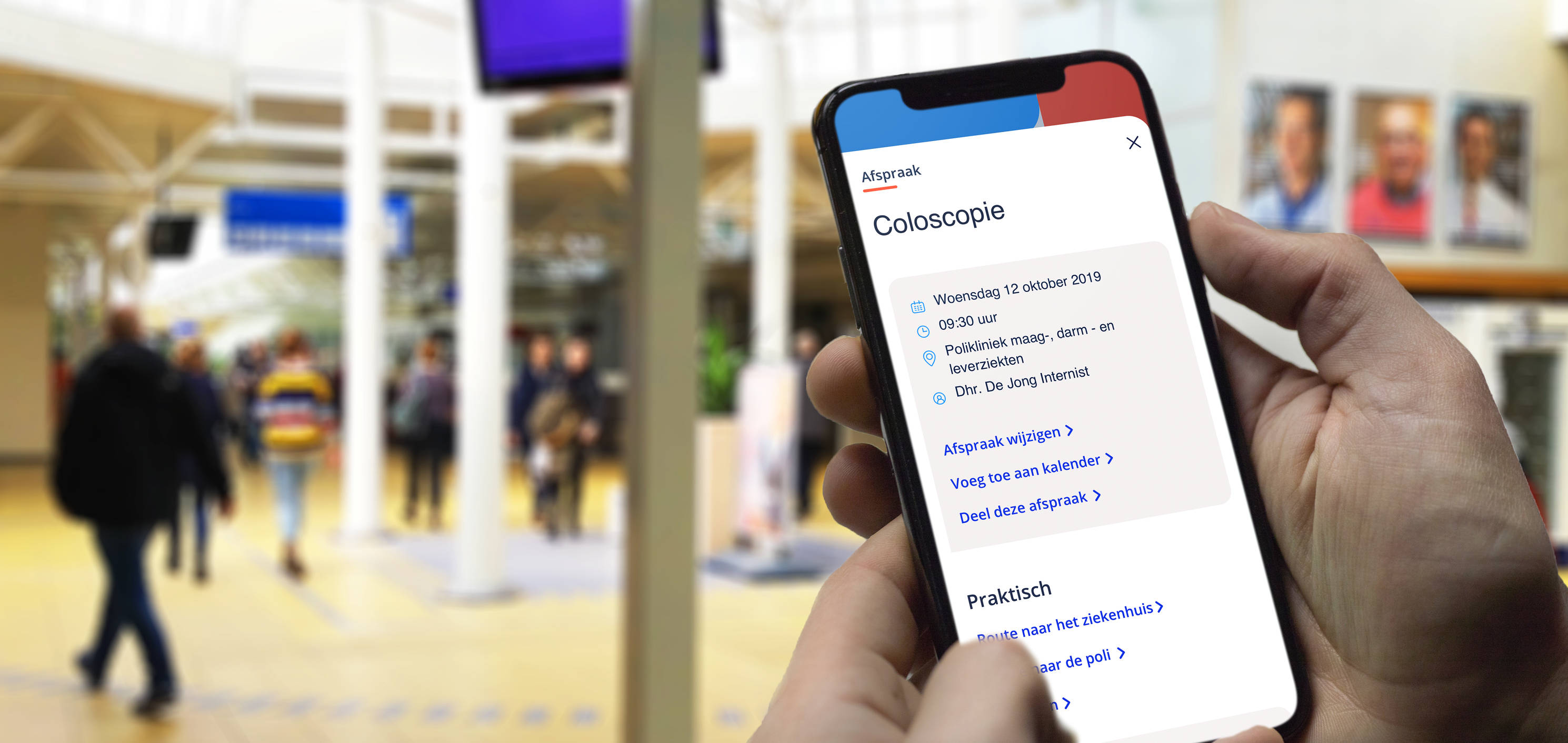 A handle on your hospital visit
Working together on a vision for the future
The goal of this project was to create a dot on the horizon. Together with UMC Utrecht we developed a vision that answered the question: what is the best way to give patients digital support? The resulting designs will give direction to further development over the next two years.
We started the design process with a Design Sprint, during which we specifically looked at patients' first contact with UMC Utrecht. Based on the positive outcome, we extended the project to all contact moments and visits.
Mapping out all the steps
Using a holistic approach, we started by mapping out the entire patient journey: from complaint to cure or (learning to) live with a chronic disorder. To do this we looked at the different touch points, such as the website, patient portal and the physical interaction between patient and care provider.
Based on what we learned, we developed a concept to give online support to patients concerning their hospital visit. We designed a flexible system for different types of people and applicable to different care plans.

All about the patient
The patient was at the heart of everything we did. We looked at data from UMC Utrecht, such as existing research and analytics, which gave us many insights into current practices and sources of concern. During the design process we conducted user tests every other week: we walked into the hospital to test drafts with patients, held in-depth interviews and conducted online questionnaires with hundreds of potential users. This allowed us to better understand the patient and to develop the guiding principles for our vision design.
From fragmented information to a personal dashboard
In the current situation the patient gets information from different departments. They receive information packs with instructions and general leaflets. But which part of the leaflet is relevant to me? And when should I do what?
In the concept we translated this fragmented information into one personal (digital) dashboard. With a digital overview and a timeline of the treatment, patients can see at a glance what the next step will be. If they would like to know more, they can choose to see more information or skip ahead. That way patients know where they stand at every step in the process.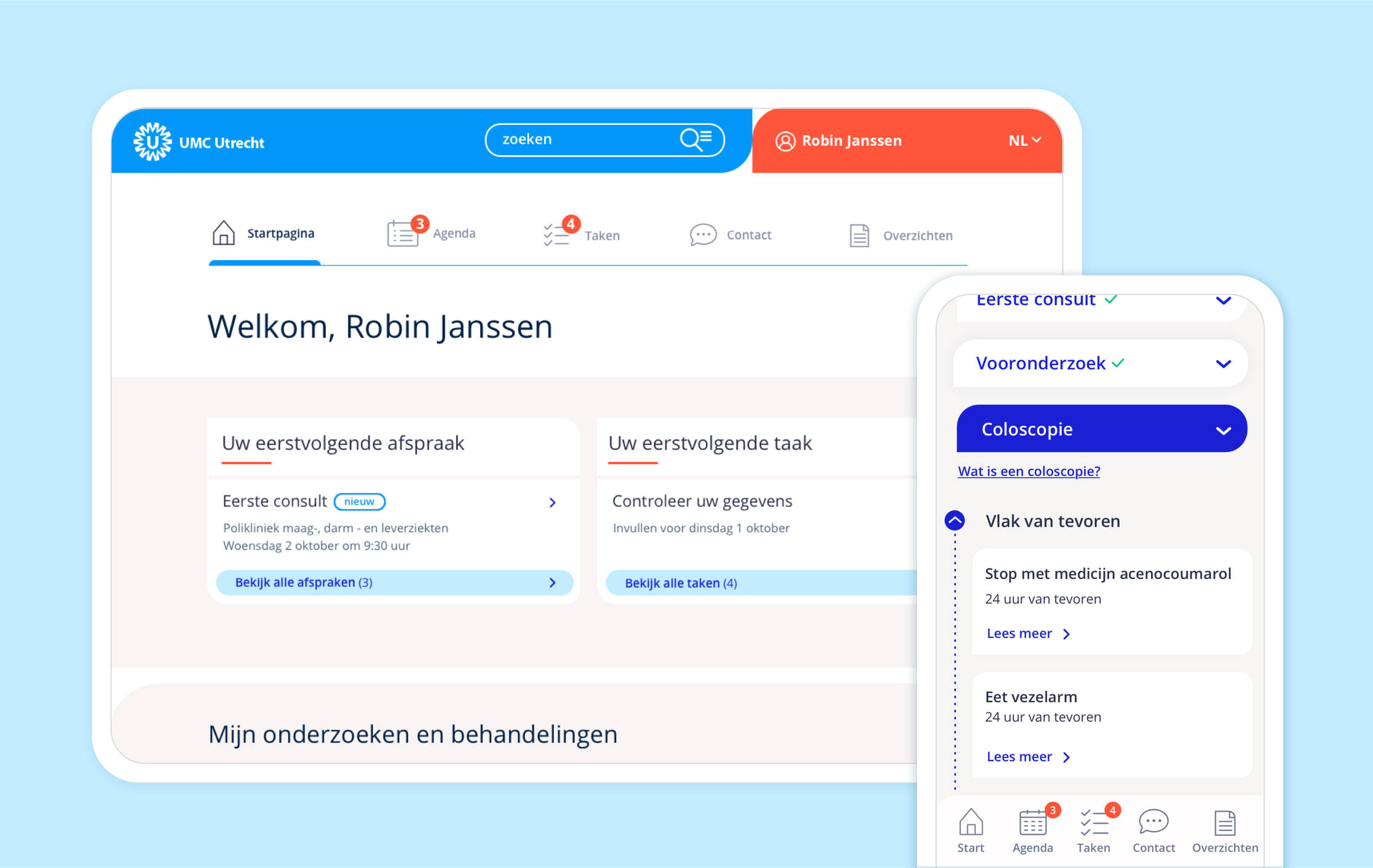 I have cancer. And when I have to wait several days for the next letter it feels like I'm just hanging in the air.
Fewer hospital visits
In many cases, patients get a preparatory questionnaire sent to their home before their appointment. In 2019, only 20% of these questionnaires were completed. This results in longer consultations and unnecessary trips to the hospital. How can we achieve more preparation online?
We made the questionnaires more user friendly: step by step, with bitesize information using different content formats, in understandable language and designed for smartphones. By sending notifications at the right time, we ensure that the patient is optimally prepared for the next step.
Patients are better prepared for the next step this way, and so is the caregiver. The appointment at the hospital becomes more concrete and valuable.
In some cases it may even turn out that certain appointments no longer have to take place in the hospital at all, meaning patients don't have to make as many trips.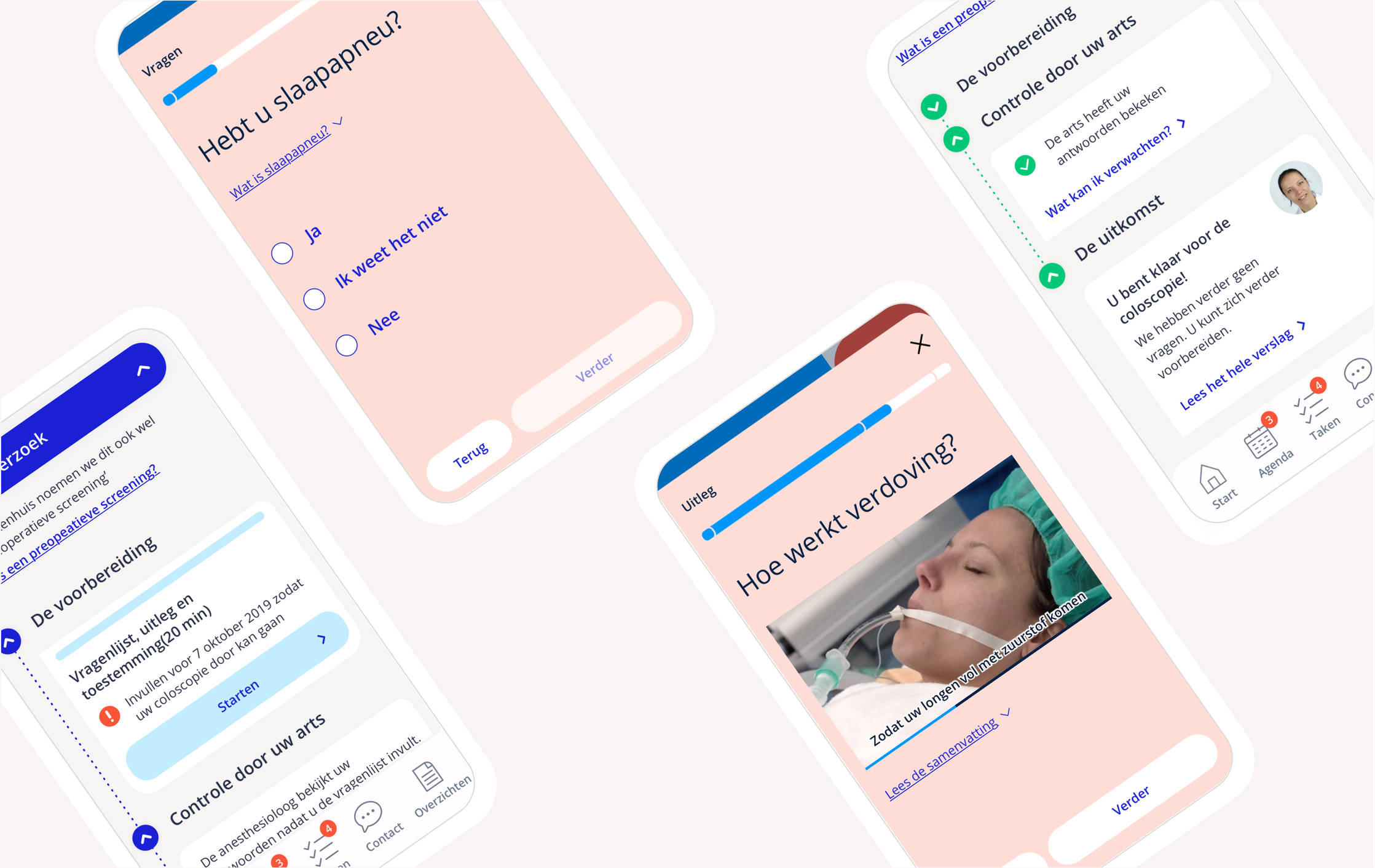 From being dependent as a patient to being equal
Every person who struggles with their health is different. Some people want to know everything in detail, others prefer to be kept in the dark. Some want as much agency as possible, others just want reassurance from the doctor. Currently, patients are dependent on hospital processes. How can this be improved and at the same time made more flexible for different types of people?
In our design, 'human contact' and personal preferences are important guiding principles: we use down-to-earth language, there is always an explanation and you always have a choice. Therefore, the first contact with the UMC Utrecht should not be online, but always through a telephone call. During this call patients can plan their first appointment and let the hospital know how they prefer to receive information from then on. It is also up to the patient whether they prefer to prepare for a visit or procedure online or would rather visit the hospital in person. This way the concept guarantees a position of equality for patients.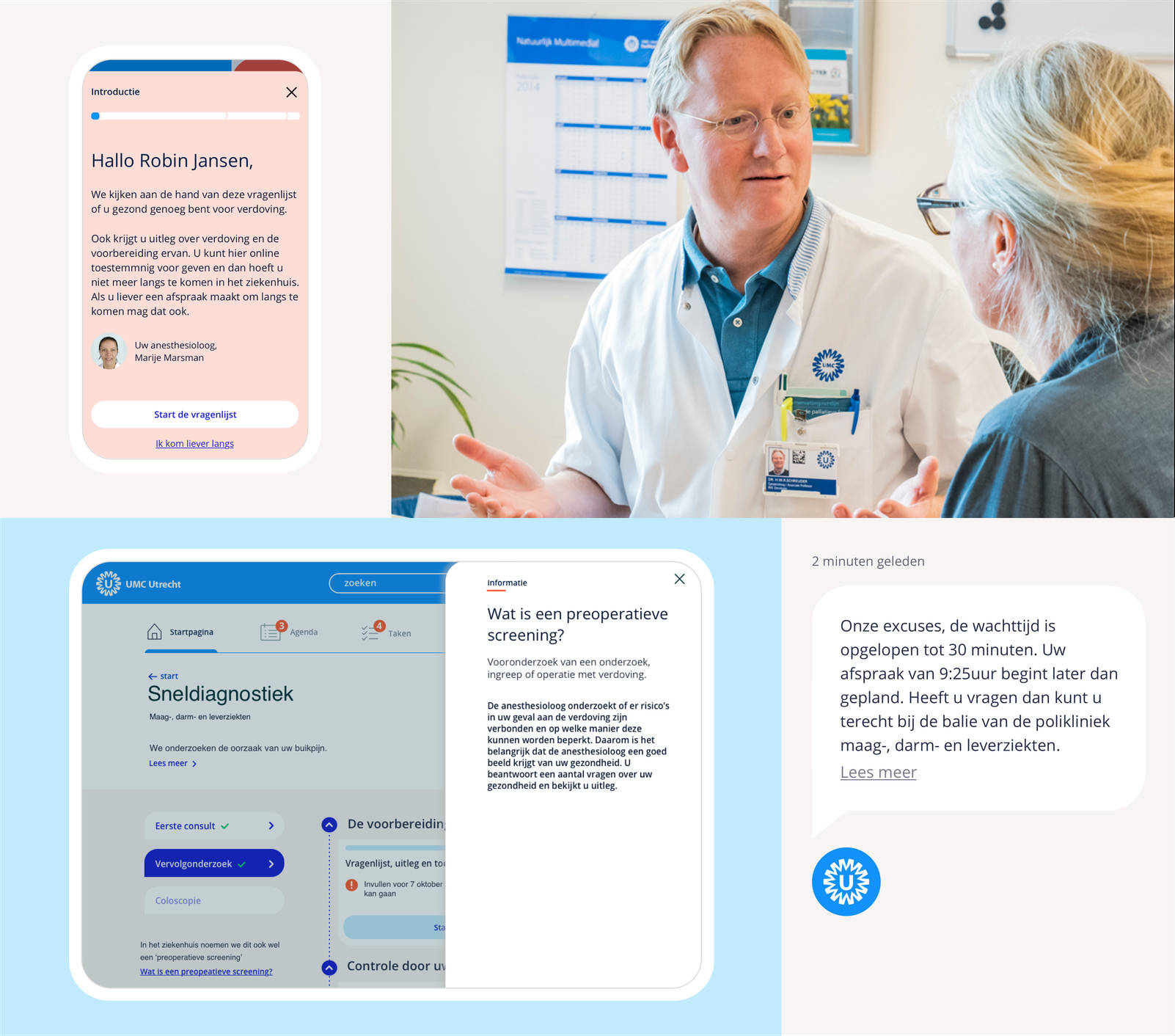 The dot on the horizon has been set. We've decided what we want. Now we're going to make our way there, step by step.
Together with the doctors and the organisation
Fabrique worked closely together with a large team from UMC Utrecht: marketing & communication, care providers, designers and IT. We included the in-house design team in our design approach. We tested hospital processes directly with doctors. By doing all this, we worked together on a vision of the future that is realistic and applicable to every care situation.
In the coming period, the hospital will continue to roll out the new strategy, applied to multiple care journeys. Step by step the digital communication will be improved, until we have reached that dot on the horizon.