The Design Museum: Moving to Mars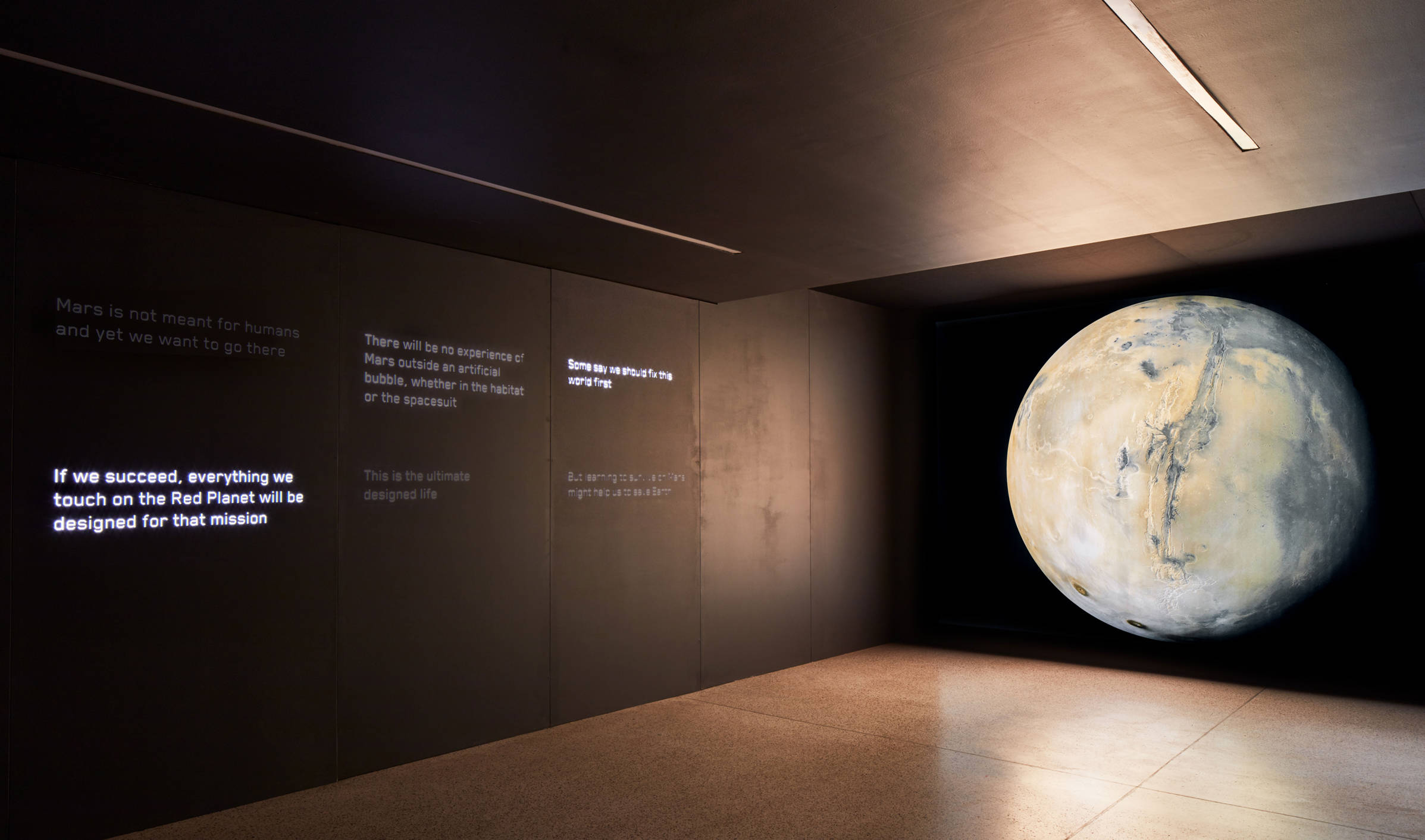 For the exhibition 'Moving to Mars', Fabrique and NorthernLight designed and directed the overall visitor experience, including the spatial and visual design. The result is a show that makes designing for another planet engaging for young and old.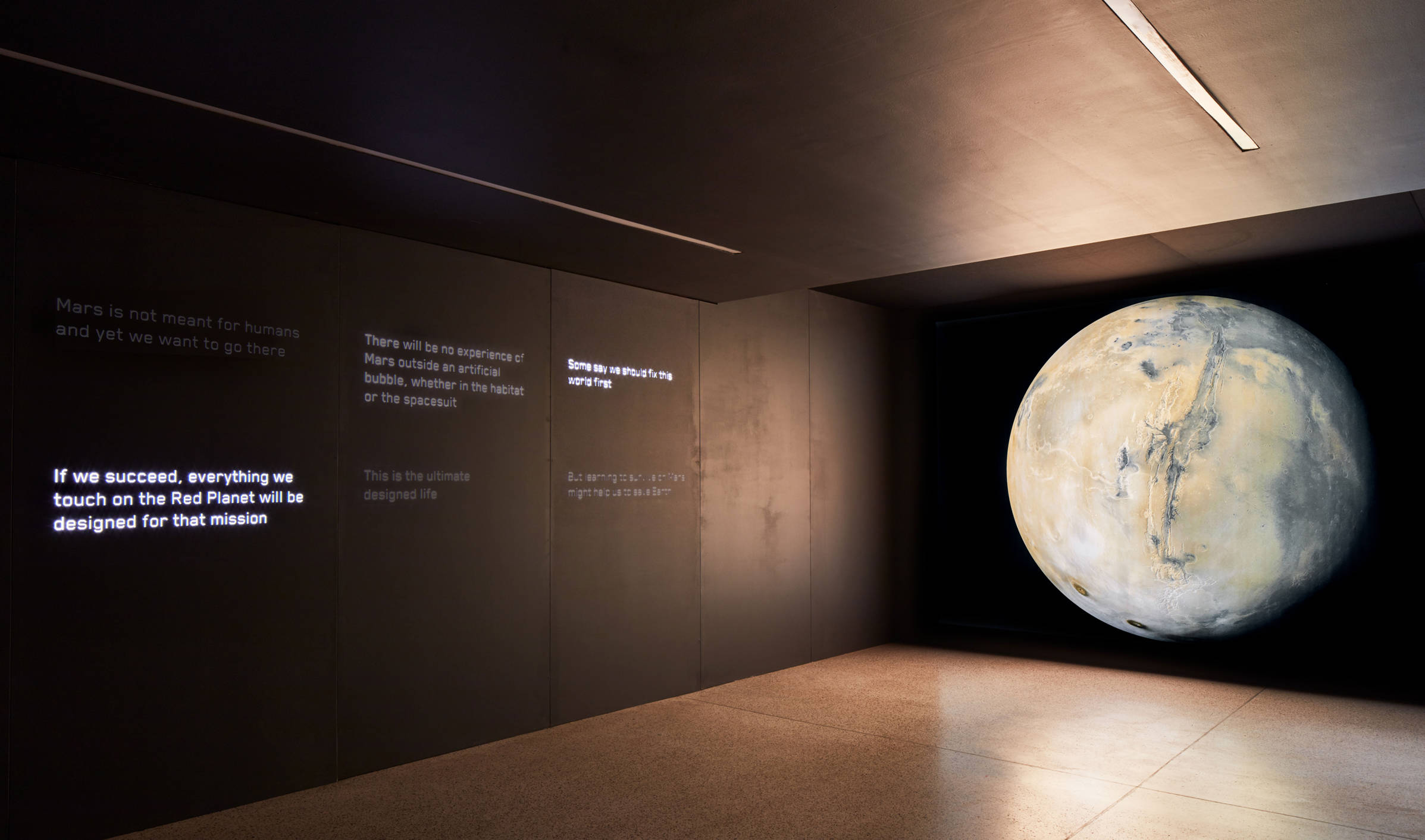 Mars, an Earthly adventure
How do you engage museum visitors with Mars? To attract a larger audience, including families with children, The Design Museum wanted to try something new for their next exhibition: an experience, rather than a collection of objects.
Should we go to Mars?
Unlike other exhibitions, this show is not about objects, but about big ideas. Why are we obsessed with Mars? How can we endure the seven month trip? Can we survive on Mars? And should we go there at all?
Human perspective
Together with the curators, we created a storyline that helps the visitor to find answers to these questions. For an optimal visitor flow, we divided the show into a sequence of themed sections, each showcasing unique material from NASA, ESA, Elon Musk's SpaceX, Raymond Loewy, Foster + Partners and many more. Whatever you see, we always tell the story from the human perspective. By relating the objects to everyday life on Earth, we have made designing for Mars understandable for everyone.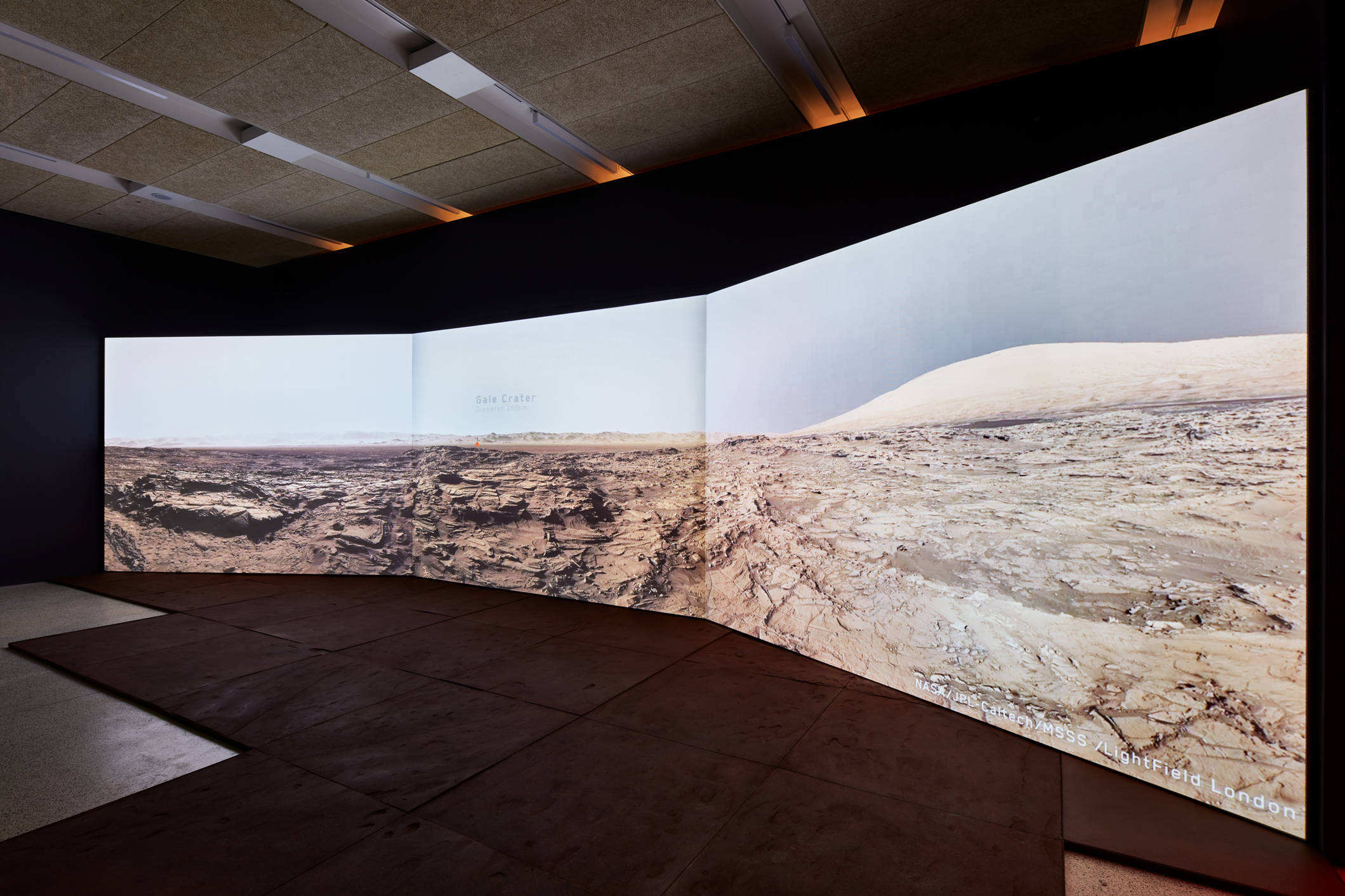 100% Immersive
The highlight of the exhibition is a multi-sensory installation, called 'On Mars Today', which lets the visitor feel what the red planet is really like. We designed the concept, created the story, and directed the entire experience.
A large 12-meter panorama shows different Martian landscapes, made of real photographs from NASA's Curiosity Rover, augmented with sound and visual effects. Infographics appear, telling visitors about the differences between Mars and Earth. The floor resembles the surface of Mars and the room even has a specially created Martian smell. Everything lets you feel that Mars is a dangerous place for humans. Did you know in the daytime it can get as cold as minus 88 degrees Celsius?
Other notable experiences in the exhibition are the entrance, featuring a soundtrack composed by Blur and an interactive wall at the end, inviting visitors to answer the question: 'How do you feel about going to Mars?'.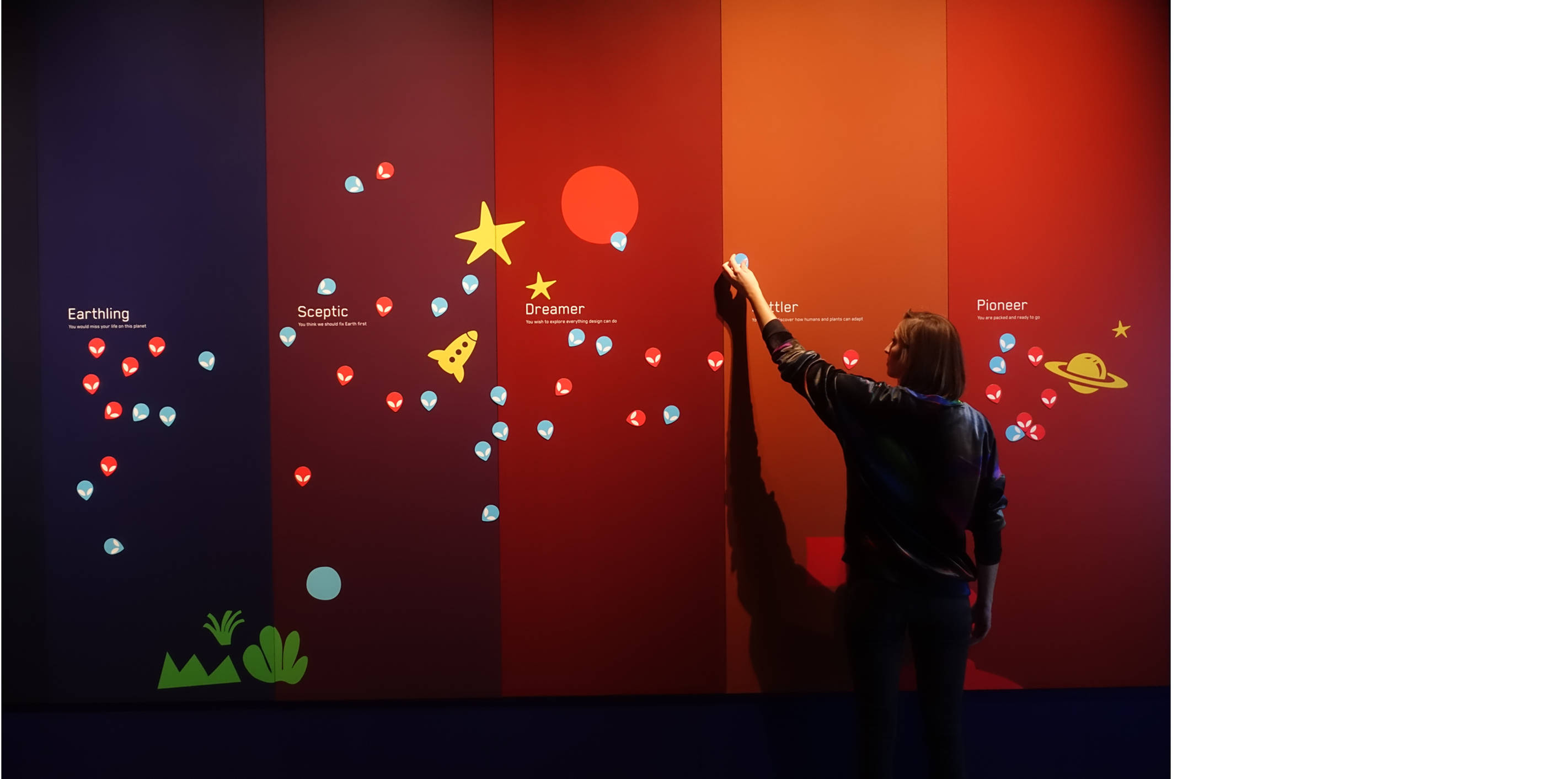 Futuristic with a glitch
Part of our work was designing the exhibition's graphic style, colour scheme and many infographics. The graphic design is inspired by science fiction but we added a speculative feeling. Each section of the show has its own atmosphere, colour and emotion, leading the visitor on a journey from London to Mars, and back down to Earth again.


Fun for all ages
We made sure the exhibition appeals on all levels, to engage both design enthusiasts and families. It's visually attractive but also 'turns minds on'. We specifically designed a trail for younger visitors, something The Design Museum had not done before. A 'Mars Mission' takes children aged 8+ through a series of design briefs set by design and space specialists, including ESA astronaut Tim Peake. Every room provides kids with an activity, while parents can enjoy the exhibits.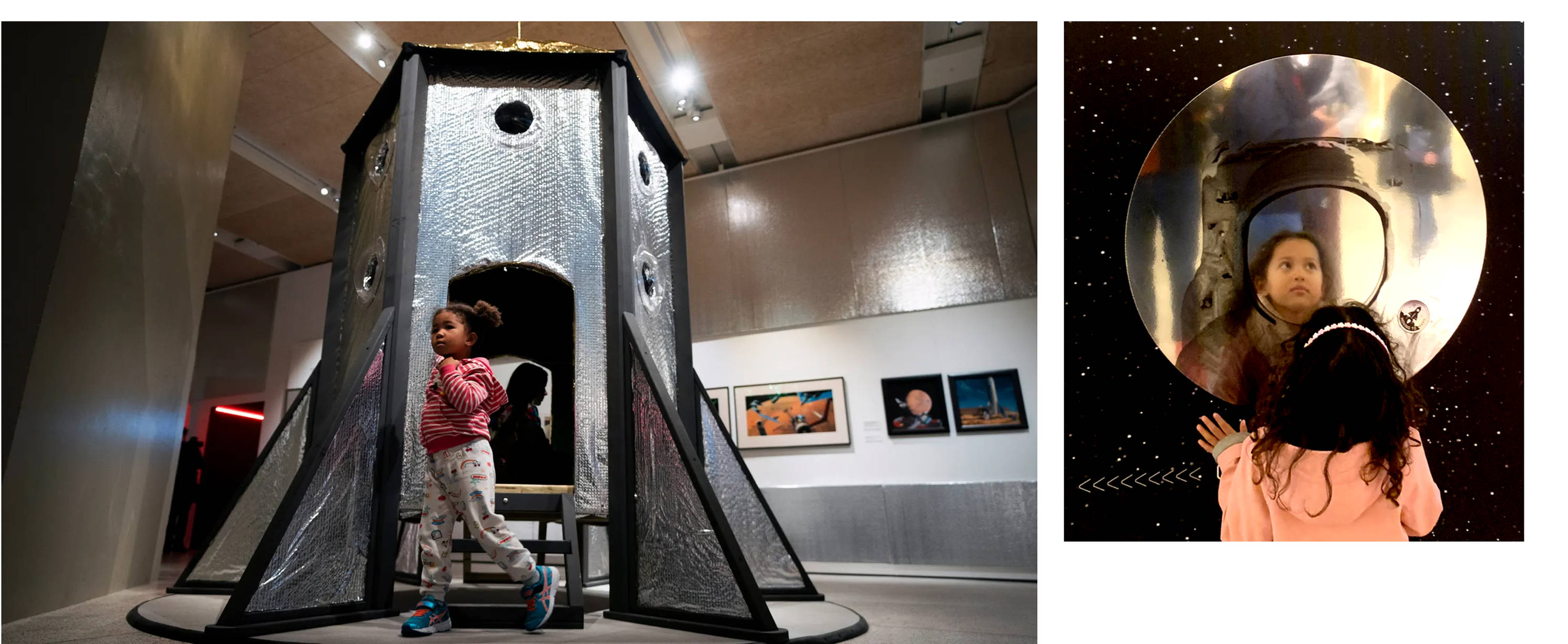 We approached this project like a movie: we wrote a script, drew storyboards and built scale models as reference points for all parties
Directed like a movie
Key to this project was our visitor-centered approach. Like a real mission to Mars, we coordinated closely with many specialists and experts. Together with The Design Museum and their curators, but also with 3D designers, lighting designers, A/V-specialists, video producers and exhibition builders, we directed all the parts into one compelling experience. We even consulted scientists working on NASA's Curiosity Mission to make sure that, while sometimes speculative, the experience is grounded in science and reality.

Everyone is talking about Mars
The exhibition gained positive reviews from both visitors and the press. It is praised for being family-friendly and thought-provoking at the same time. If other museums are interested, Moving to Mars might go 'on tour' after its run at The Design Museum.
After its run at The Design Museum, 'Moving to Mars' will go on an international tour. Its first stop will be Sweden: from July 4, the exhibition can be experienced at Tekniska Museet in Stockholm (Sweden's National Museum of Science and Technology).
An intelligent and thoughtful exhibition. Its most compelling sensation, though, is one of wonder.
Together with
Experience Design, Spatial Design & Visual Design: Fabrique with NorthernLight
Curators: Andrew Nahum and Eleanor Watson
Chief Curator: Justin McGuirk
Curatorial Research Assistants: Domenica Bates, Anna Xene Marchant and Margharita Manca
Exhibition Project Managers: Zoe Few and Cleo Stringer
Exhibition Coordinator: Jessica Taylor
Associate Curator: Thomas Ermacora
Exhibition Design: All Things Studio
Exhibition Build: Factory Settings
Audio-Visual: Blue Elephant
Lighting Design: Beam Lighting Design
Graphics Production: Displayways
Interpretation Editor: Maria Blyzinsky
Academic Partner: Imperial College London, with the kind support of Professor Sanjeev Gupta