Our services
Product and service innovation
Happy users meet thriving business.
There are plenty of ideas in the world.
But how do you ensure that they become reality? And successful? The world is becoming more complex. Business models are becoming more versatile. Customers are becoming more demanding, and hi-tech is all over the place. Designing clear, seamless user experiences is becoming more challenging every day.
What kind of innovation?
Innovation can come from a vision of the future, from a strategic roadmap, or from an existing product portfolio. We distinguish innovations on horizon 1, 2 and 3. Product innovation requires a different approach from service innovation. In other words: every innovation requires a different process. A process that we design to spec.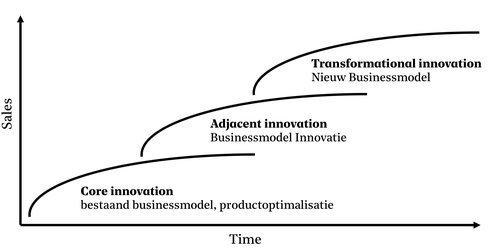 A Horizon 1 innovation is an improvement of an existing business model, it's about improving existing products. User testing, panels, observations and interviews are good instruments to make a Value Proposition Canvas, for example, in order to create a backlog of improvements. Horizon 1 innovation only works if it is a continuous process. Using Agile and Lean Startup as a base, we designed a framework that allows people to develop a clear product vision, and translate this vision into a design roadmap and an implementation approach.
Horizon 2 innovations are more progressive and require a new business model. The criteria of Feasibility, Viability and Desirability are very important. A Business Model Canvas is a simple tool that can be used in workshops to catalogue such innovations.
Horizon 3 innovations are about real change. We look at the existing context in a new way, and we move paradigms. Concepting and validating are important phases in these kinds of innovations. Because these innovations often take place further in the future, we use methods such as VIP (Vision in Product Development) to make sure we remain in control.
Innovation in their DNA.
Schiphol E-gates
Compared to many competitors, Schiphol is at a disadvantage. An airport with very little space to expand, Schiphol is the hub for a relatively small airline carrier (KLM), and Amsterdam is not a metropolis like London or Paris. However, Schiphol has distinguished itself for decades through innovation. A point which is acknowledged by travellers; Schiphol is a very popular transfer airport. The Schiphol e-gates we devised and developed are a good example of product innovation that is aligned with a brand.
Reinventing wealth management.
Prospery by ABN AMRO
How can we introduce private banking to the digital age? In a horizon 2 project, in collaboration with ABN AMRO, we developed Prospery for the German market. In a nutshell: digital wealth management in combination with personal video coaching for a fixed rate with an onboarding of less than 15 minutes. This makes Prospery the first digital wealth manager in Europe.
Virtual reality against loneliness.
Hack the Planet
How can you help socially isolated elderly people? Together with Q42 we developed Elders, a shared experience; virtual reality that helps elderly people build new relationships. Together, users travel to far-away countries, or to the past. Using innovation techniques we were able to synchronise the VR experience and offer it on location.
Innovation starts with Innovation power.
Whichever form of innovation you choose, the surroundings in which that innovation takes place play a large part in its likely success. One organisation has more innovation power than another.

From our experience of the past twenty years, we have learned which factors are of vital importance. These are factors around a shared direction and vision, around your people and their mentality and skills, and around tooling and processes. Curious? In a conversation, we'd love to dive into this and determine together how we might increase your innovation power!
Would you like to know more?